Posts for: January, 2017
By The Dental Office of Dr. Jeffrey A. Cox
January 18, 2017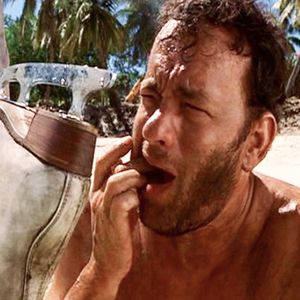 Did you see the move Cast Away starring Tom Hanks? If so, you probably remember the scene where Hanks, stranded on a remote island, knocks out his own abscessed tooth — with an ice skate, no less — to stop the pain. Recently, Dear Doctor TV interviewed Gary Archer, the dental technician who created that special effect and many others.
"They wanted to have an abscess above the tooth with all sorts of gunk and pus and stuff coming out of it," Archer explained. "I met with Tom and I took impressions [of his mouth] and we came up with this wonderful little piece. It just slipped over his own natural teeth." The actor could flick it out with his lower tooth when the time was right during the scene. It ended up looking so real that, as Archer said, "it was not for the easily squeamish!"
That's for sure. But neither is a real abscess, which is an infection that becomes sealed off beneath the gum line. An abscess may result from a trapped piece of food, uncontrolled periodontal (gum) disease, or even an infection deep inside a tooth that has spread to adjacent periodontal tissues. In any case, the condition can cause intense pain due to the pressure that builds up in the pus-filled sac. Prompt treatment is required to relieve the pain, keep the infection from spreading to other areas of the face (or even elsewhere in the body), and prevent tooth loss.
Treatment involves draining the abscess, which usually stops the pain immediately, and then controlling the infection and removing its cause. This may require antibiotics and any of several in-office dental procedures, including gum surgery, a root canal, or a tooth extraction. But if you do have a tooth that can't be saved, we promise we won't remove it with an ice skate!
The best way to prevent an abscess from forming in the first place is to practice conscientious oral hygiene. By brushing your teeth twice each day for two minutes, and flossing at least once a day, you will go a long way towards keeping harmful oral bacteria from thriving in your mouth.
If you have any questions about gum disease or abscesses, please contact us or schedule an appointment for a consultation. You can learn more by reading the Dear Doctor magazine articles "Periodontal (Gum) Abscesses" and "Confusing Tooth Pain."
By The Dental Office of Dr. Jeffrey A. Cox
January 03, 2017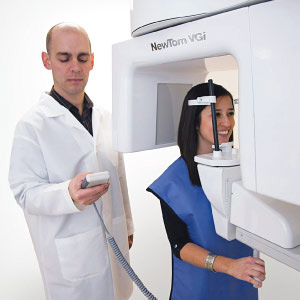 X-rays revolutionized dental care in the 20th Century. The same could happen in the 21st Century as cone beam computed tomography (CBCT) becomes a fixture beside the traditional x-ray machine.
CBCT made its debut in dental offices about a decade and a half ago. It utilizes the same invisible energy as traditional x-rays to create images of the face and jaw. But unlike traditional x-rays, which can only depict structures in the two dimensions of width and height, CBCT can create three-dimensional images in amazing detail.
The CBCT's x-ray projector rotates around a patient's head. As it emits a cone-shaped beam of x-rays, the device simultaneously collects anywhere from 150 to 599 distinct image views. It transmits these views to a computer that assembles them into three-dimensional images that can be viewed on a computer display.
From the data file of images, dentists can re-format a variety of views and angles of teeth, jaws and other facial bones at various levels of magnification. Because of this wide range of views, all in striking detail, CBCTs are highly useful among other things for diagnosis of malocclusions (bad bites), the size and location of infections, obstructions at possible implant sites, or jaw problems prior to surgery.
Because they expose a patient to higher doses of radiation than a standard x-ray machine, they're normally limited to more complex oral situations. That means you'll still undergo standard x-rays for most of your dental treatment needs. CBCT radiation levels are lower, however, than medical CT scans, which use a fan-shaped beam that can expose a patient to ten times the radiation of a CBCT. For dental care, a CBCT machine also produces greater image detail than an MRI.
Depending on your needs, CBCT may one day be a part of your dental care.  With their range and accuracy, it could play a major role in helping you attain good health.
If you would like more information on cone beam diagnostics, please contact us or schedule an appointment for a consultation. You can also learn more about this topic by reading the Dear Doctor magazine article "Getting the Full Picture with Cone Beam Dental Scans."