Posts for: October, 2015
By The Dental Office of Dr. Jeffrey A. Cox
October 16, 2015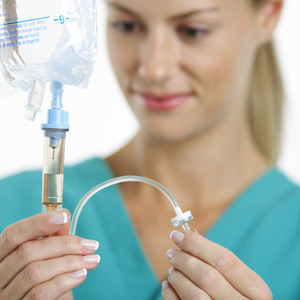 Did you know 50% of people admit to some form of anxiety visiting the dentist, with roughly 1 in 6 avoiding dental care altogether because of it? To ease anxiety dentistry has developed sedation methods that help patients relax during dental treatment.
Many can achieve relaxation with an oral sedative taken about an hour before a visit. Some with acute anxiety, though, may need deeper sedation through an intravenous (IV) injection of medication. Unlike general anesthesia which achieves complete unconsciousness to block pain, IV sedation reduces consciousness to a controllable level. Patients aren't so much "asleep" as in a "semi-awake" state that's safe and effective for reducing anxiety.
While there are a variety of IV medications, the most popular for dental offices are the benzodiazepines, most often Midazolam (Versed). Benzodiazepines act quickly and wear off faster than similar drugs, and have a good amnesic effect (you won't recall details while under its influence). While relatively safe, they shouldn't be used with individuals with poor liver function because of their adverse interaction with liver enzymes.
Other drugs or substances are often used in conjunction with IV sedation. Nitrous oxide ("laughing gas") may be introduced initially to help with anxiety over the IV needle stick. Sometimes pain-reducing drugs like Fentanyl may be added to the IV solution to boost the sedative effect and to reduce the amount of the main drug.
If we recommend IV sedation for your dental treatment, there are some things you should do to help the procedure go smoothly and safely. Because the after effects of sedation may impair your driving ability, be sure you have someone with you to take you home. Don't eat or drink anything after midnight the day before your appointment, and consult with both your physician and dentist about taking any prescription medication beforehand. Wear loose, comfortable clothing and don't wear contact lenses, oral appliances like dentures or retainers, watches or other jewelry.
Our top priority is safety — we follow strict standards and protocols regarding IV sedation and you'll be carefully monitored before, during and after your procedure. Performed with the utmost care, IV sedation could make your next dental procedure pleasant and uneventful, and impact your oral health for the better.
If you would like more information on IV and other forms of sedation, please contact us or schedule an appointment for a consultation.
By The Dental Office of Dr. Jeffrey A. Cox
October 01, 2015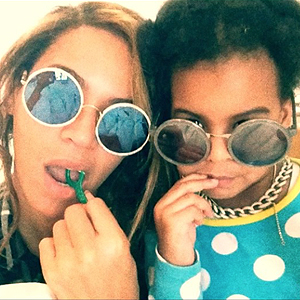 As is the case with most celebs today, Beyonce is no stranger to sharing on social media… but she really got our attention with a video she recently posted on instagram. The clip shows the superstar songstress — along with her adorable three-year old daughter Blue Ivy — flossing their teeth! In the background, a vocalist (sounding remarkably like her husband Jay-Z) repeats the phrase "flossin'…flossin'…" as mom and daughter appear to take care of their dental hygiene in time with the beat: https://instagram.com/p/073CF1vw07/?taken-by=beyonce
We're happy that this clip highlights the importance of helping kids get an early start on good oral hygiene. And, according to authorities like the American Dental Association and the American Academy of Pediatric Dentistry, age 3 is about the right time for kids to begin getting involved in the care of their own teeth.
Of course, parents should start paying attention to their kids' oral hygiene long before age three. In fact, as soon as baby's tiny teeth make their first appearance, the teeth and gums can be cleaned with a soft brush or cloth and a smear of fluoride toothpaste, about the size of a grain of rice. Around age 3, kids will develop the ability to spit out toothpaste. That's when you can increase the amount of toothpaste a little, and start explaining to them how you clean all around the teeth on the top and bottom of the mouth. Depending on your child's dexterity, age 3 might be a good time to let them have a try at brushing by themselves.
Ready to help your kids take the first steps to a lifetime of good dental checkups? Place a pea-sized dab of fluoride toothpaste on a soft-bristled brush, and gently guide them as they clean in front, in back, on all surfaces of each tooth. At first, it's a good idea to take turns brushing. That way, you can be sure they're learning the right techniques and keeping their teeth plaque-free, while making the experience challenging and fun.
Most kids will need parental supervision and help with brushing until around age 6. As they develop better hand-eye coordination and the ability to follow through with the cleaning regimen, they can be left on their own more. But even the best may need some "brushing up" on their tooth-cleaning techniques from time to time.
What about flossing? While it's an essential part of good oral hygiene, it does take a little more dexterity to do it properly. Flossing the gaps between teeth should be started when the teeth begin growing close to one another. Depending on how a child's teeth are spaced, perhaps only the back ones will need to be flossed at first. Even after they learn to brush, kids may still need help flossing — but a floss holder (like the one Beyonce is using in the clip) can make the job a lot easier.
If you would like more information about maintaining your children's oral hygiene, please contact us or schedule an appointment for a consultation. You can learn more by reading the Dear Doctor magazine articles "Top 10 Oral Health Tips For Children" and "How to Help Your Child Develop the Best Habits for Oral Health."