Posts for: June, 2015
By The Dental Office of Dr. Jeffrey A. Cox
June 25, 2015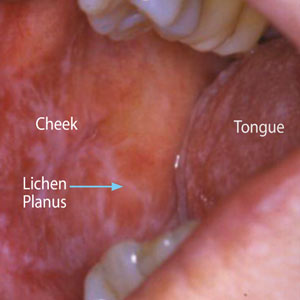 If you've noticed a small sore in your mouth, it's possible you have a non-contagious disease known as lichen planus. Although usually benign, it's still a good idea to have it examined and monitored.
The condition is so named because its lesions are similar in appearance to lichen, the algae and fungi organism often found on rocks and trees. It's believed to be a type of autoimmune disease, in which the body treats some of its own cells as foreign and reacts adversely to them. Certain medications and substances may also cause a lichenoid reaction. Besides the inner cheeks, gums or tongue, lichen planus may also appear on other skin or mucous surfaces on the wrists, legs or fingernails.
When it appears inside the mouth it usually resembles a lacy pattern of white lines or ulceration. Gum tissues may become red and inflamed, with some soreness after brushing or eating. Although there's no known cure for lichen planus, it rarely causes serious problems — in fact, you may not even be aware you have the condition unless pointed out during a dental exam. It may, in time, fade away.
If the lesions do become bothersome (painful, itchy or overly-sensitive), there are some ways to ease discomfort: brushing with a soft toothbrush (to minimize irritation), flossing, and avoiding acidic or spicy foods and beverages which have been known to cause flare-ups. Managing stress is also helpful, and a topical steroid may be prescribed for more severe outbreaks.
Perhaps the greatest concern with lichen planus, though, is it may resemble more serious conditions, particularly oral cancer. The only way to be certain that it is a benign condition is to perform a biopsy on some of the affected tissue. If you notice a problem, be sure to visit us for a complete examination. And regardless of whether you have the condition or not, regular oral cancer screenings, as well as limits on alcohol consumption and stopping use of tobacco, will also reduce your risk of oral cancer.
Odds are if you have a case of lichen planus it isn't causing you any problems. If it does cause you discomfort, though, you can take steps to ease your symptoms.
If you would like more information on lichen planus and similar oral conditions, please contact us or schedule an appointment for a consultation.
By The Dental Office of Dr. Jeffrey A. Cox
June 10, 2015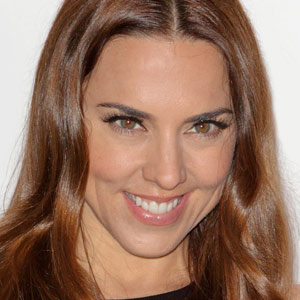 As a member of the best-selling pop group Spice Girls, Mel C (AKA Sporty Spice) enjoyed her share of musical superstardom. At the band's peak in the Nineties, the young singer's signature look featured baggy sweatpants, an assortment of tattoos, a nose stud and a gold-capped incisor, front and center in her mouth. Today, Melanie Chisholm is still singing — but now she's a mom, an amateur triathlete… and that gold tooth is just a memory. Not only that, her smile looks more evenly spaced and whiter than it did when she was referred to as the "tomboy" of the group.
What happened? In our view, it all boils down to changing tastes — plus a little bit of help from dental professionals. As the "wannabe" singer proves, there's no single standard when it comes to making your teeth look their best. Your own look is unique to you — and your smile can reflect that individuality.
For example, crowns (caps) are substantial coverings that may be placed on teeth when they are being restored. They are available in three types: gold, all-porcelain, or porcelain-fused-to-metal. The latter two are tooth-colored, while the gold is — well, shiny like gold bling. Which one is right for you? In many cases, it's your choice.
Likewise, dental veneers — wafer-thin shells that can correct cosmetic issues by covering the surface of your teeth — can be made in a variety of shades. Their hues may range from natural ivory to Hollywood white, and everything in between. What's the best color for you? Only you can say.
Some people opt for a "smile makeover" that uses small irregularities in the spacing and color of teeth to create a more "natural" look. Other folks want a perfectly even, brilliant white smile that dazzles the eye. Still others are looking to match or restore the smile they once had — perhaps even re-creating a signature gap between the teeth. As long as there are no other dental issues involved, the choice is yours.
So if you're unhappy with your smile — or if you feel it doesn't reflect the person you "wannabe" — why not talk to us about a smile makeover? Just call our office to schedule a consultation. You can learn more about this topic in the Dear Doctor magazine articles "Beautiful Smiles by Design" and "The Impact of a Smile Makeover."