Posts for: June, 2014
By The Dental Office of Dr. Jeffrey A. Cox
June 17, 2014
If a glance in the mirror reveals stained or discolored teeth that are detracting from your self-confidence, it's time to do something about it. The first step is to make an appointment for an office visit to find out how we can help you.
External (extrinsic) stains that form on the surfaces of teeth are usually caused by beverages such as red wine, tea, coffee as well as unhealthy habits like tobacco use. Extrinsic stains generally come in shades of browns, black or grays, but may even be orange or green from color producing bacteria.
Internal (intrinsic) stains are part of the structure of the tooth and cannot be removed by polishing. Among their causes are excessive fluoride levels or tetracycline antibiotics given in childhood and during tooth formation. Teeth do become more yellow and discolored as we age. Discoloration of individual teeth may be indicative of tooth decay, or teeth that have had root canal treatment and have literally lost their vitality tend to darken over time. Internal discoloration comes in a variety of shades and hues from yellows, grays, browns, and even some reds or pink.
Five Ways to lighten, whiten and brighten stained or discolored teeth
Change your habits. Reduce or stop consuming or using foods, drinks or tobacco if they are staining your teeth.
Improve your daily oral hygiene. Make sure to brush your teeth well, twice a day. Change to a toothpaste that contains a mild abrasive. Some toothpastes also contain tooth whiteners.
Visit our office for a professional cleaning and polish. Routine scaling and polishing will remove most superficial external stain and discoloration. Sometimes ultrasonic cleaning (by high frequency vibration) and polishing with slightly abrasive pastes may just do the trick.
Treatment for internal stain and discoloration. Brown colored decaying teeth need to have the decay removed and the teeth restored. Stained old and leaking fillings may also need to be replaced.
Tooth whitening by bleaching. Bleaching or tooth whitening is a safe and effective way to brighten stained teeth. Internal tooth bleaching can whiten even discolored root canal treated teeth. Ask us for more information about this technique.
If your mirror tells you that your smile needs attention, there's no time like the present to get started. Get back your bright, white smile and your self-confidence as well.
Contact us today to schedule an appointment to discuss your questions about tooth staining and its treatments. You can also learn more by reading the Dear Doctor magazine article "Tooth Staining."
By The Dental Office of Dr. Jeffrey A. Cox
June 02, 2014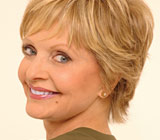 Life lessons are learned in the most surprising places. This is no different for celebrities. Take, for example, Florence Henderson, an actress, singer, philanthropist, author and star of the hit television series, The Brady Bunch. As she told Dear Doctor magazine, her experience with having four impacted wisdom teeth removed — at the same time — "...only made me more aware of how important dental care is." She continued, "This is why I have always gone every six months for a check up."
Another important lesson we want to share is the fact that even if your impacted third molars (wisdom teeth) are not bothering you or causing any pain, you may still need to have them removed.
Why? Having a tooth submerged below the gum, pressing on the roots of other teeth is problematic; the tooth should be removed so that you can avoid major dental problems before they occur. For example, it is not uncommon for us to find an impacted third molar pressing against the roots of the adjacent second molar. Furthermore, because the enamel crown of this impacted tooth is trapped below the gum, we sometimes find an infection, gum disease or even cyst formation occurring.
Often, the best time to remove a wisdom tooth is when it is not causing any problems. This is because a painful wisdom tooth or pain in the area of the wisdom tooth may be a sign that significant damage has occurred or is occurring. It is also better to remove wisdom teeth when you are young, as young healthy people with no prior infections at the site provide the best opportunity for us to remove the tooth with no complications.
To learn more about impacted wisdom teeth, continue reading the Dear Doctor magazine article "Removing Wisdom Teeth." Or if you suspect or already know that you have an impacted wisdom tooth, contact us today to schedule an appointment so that we can conduct a thorough examination that includes x-rays. During this private consultation, we will also address any questions you have as well as your treatment options. And if you want to read the entire article on Florence Henderson, continue reading "Florence Henderson."