Posts for: April, 2014
By The Dental Office of Dr. Jeffrey A. Cox
April 16, 2014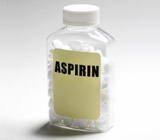 Acetylsalicylic acid (ASA), better known as aspirin, is an effective pain reliever and fever reducer. More recently, its anti-inflammatory properties have become part of the management of cardiovascular disease. But while regular use may benefit your general health, it could complicate your dental care.
Aspirin helps reduce inflammatory pain or fever by blocking the body's formation of prostaglandins, chemicals that contribute to inflammation after trauma or injury. It also prevents blood platelets from sticking and clumping together. While this can prolong normal bleeding and bruising, it also helps the blood move freely through narrowed or damaged blood vessels, which reduces the risk of heart attack or stroke in at-risk cardiovascular patients. Due to side effects from prolonged aspirin use like kidney damage, stomach bleeding, or ulceration, physicians normally prescribe a low aspirin dosage (81 milligrams) to minimize these effects.
Because of its effect on bleeding and clotting, it's important that every member of your healthcare team — including your dentist — knows how much and how often you take aspirin. The change it causes in your body's clotting mechanism may also affect how dental procedures are carried out; by knowing you take aspirin regularly we can take extra precautions to ensure your safety.
In fact, if you've been prescribed aspirin for a heart condition, you may be tempted to stop taking it before a dental procedure out of fear of profuse bleeding. This is highly unadvisable — the sudden discontinuation could increase your risk of heart attack, stroke or even death. You should only discontinue aspirin treatment at the direction of your prescribing physician.
Another aspirin-related effect may involve your gums and other soft tissues. You may notice gum tissue bleeding after brushing or flossing; while this is normally a sign of periodontal gum disease, it could also be the result of your aspirin therapy. The only way to know for sure is to schedule a visit with us to examine your gums.
When it comes to aspirin or other blood-related therapies, the key is to communicate your health status with us, including all medications you are taking. With that knowledge we can provide you with the most informed and safest dental care we can.
If you would like more information on the effects of aspirin on your dental care, please contact us or schedule an appointment for a consultation. You can also learn more about this topic by reading the Dear Doctor magazine article "Aspirin: Friend or Foe?"
By The Dental Office of Dr. Jeffrey A. Cox
April 01, 2014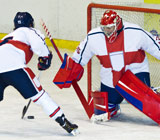 It might seem that adults who play aggressive, high-contact professional sports (ice hockey, for example) have the highest chance of sustaining dental injuries. But for many — like NHL hall-of-famer Mike Bossy — their first injured teeth came long before they hit the big time.
"The earliest [dental injury] I remember is when I was around 12," the former New York Islanders forward recently told an interviewer with the Huffington Post. That came from a stick to Bossy's mouth, and resulted in a chipped front tooth. "Unfortunately, money was not abundant back in those days, and I believe I finally had it repaired when I was 16." he said.
You may also think there's a greater chance of sustaining dental trauma from "collision sports" like football and hockey — but statistics tell a different story. In fact, according to the Academy of General Dentistry (AGD), you (or your children) are more likely to have teeth damaged while playing soccer than football — and basketball players have a risk that's 15 times higher than football players.
So — whether the game is hockey, basketball or something else — should you let the chance of dental injury stop you or your children from playing the sports they love? We think not... but you should be aware of the things you can do to prevent injury, and the treatment options that are available if it happens.
Probably the single most effective means of preventing sports-related dental injuries is to get a good, custom-made mouth guard — and wear it. The AGD says mouthguards prevent some 200,000 such injuries every year. And the American Dental Association says that athletes who don't wear mouthguards are 60 times more likely to sustain harm to the teeth than those who do.
Many studies have shown that having a custom-fitted mouthguard prepared in a dental office offers far greater protection then an off-the-shelf "small-medium-large" type, or even the so-called "boil and bite" variety. Using an exact model of your teeth, we can fabricate a mouthguard just for you, made of the highest-quality material. We will ensure that it fits correctly and feels comfortable in your mouth — because if you don't wear it, it can't help!
But even if you do have an injury, don't panic: Modern dentistry offers plenty of ways to repair it! The most common sports-related dental injuries typically involve chipped or cracked teeth. In many cases, these can be repaired by bonding with tooth-colored composite resins. For mild to moderate injury, this method of restoration can produce a restoration that's practically invisible. It's also a relatively uncomplicated and inexpensive procedure, which makes it ideal for growing kids, who may elect to have a more permanent restoration done later.
If you have questions about mouthguards or sports-related dental injuries, please contact us or schedule an appointment for a consultation. You can learn more in the Dear Doctor magazine articles "Athletic Mouthguards," and "An Introduction to Sports Injuries & Dentistry."